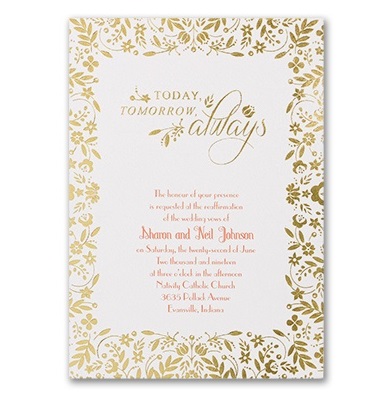 Any of our beautiful wedding invitations can be used for a Vow Renewal Invitations. Simply select a verse and edit it to suit your needs!
What is a vow renewal?
A vow renewal is a ceremony of reaffirmation. More a sentimental event than an official one, a vow renewal is not legally binding. Rather, it is a deeply symbolic way for a couple to reaffirm their original promise to one another through vows.
Who renews their vows?

Any married couple. Couples often renew their vows to commemorate an anniversary or to mark the end of a difficult time in a relationship. Some couples "re-celebrate" after a hurried military wedding or with family overseas. Some couples even choose to have a vow renewal celebration because they were unable to have the wedding of their dreams the first time around.
Who typically hosts a renewal?
When the couple is celebrating an important milestone, such as an anniversary or a rejuvenation of love, the children of the couple may host the vow renewal. However, more often than not, it is the couple themselves who host the ceremony - after all, it is a deeply intimate reaffirmation.
Where is the vow renewal held?

Just about anywhere! Many couples choose to celebrate in their place of worship - perhaps even in the same church where they were married. Others choose more casual locations, such as the couple's home, a park, aboard a cruise ship or in a remote vacation destination.
How many quests do you invite?
Most vow renewal celebrations are small, intimate gatherings. However, vow renewals can be as simple or elaborate as the couple deems appropriate, and the guest list can be as short or as long as the couple wishes.
What does the couple wear?
Rules of etiquette do not mandate a particular wardrobe for vow renewal ceremonies. However, many women choose to wear a wedding dress or other special gown. Men often wear suits, tuxedos or military uniforms. Casual dress is also completely appropriate.
How can you include children?
Couples seeking to involve their children in their ceremonies might consider reading a meaningful verse related to parenting or childhood or lighting a family unity candle.
Wording Samples
for Vow Renewals Invitations
A life of caring, sharing
A love of endless giving together . . .
The honour of your presence is requested
at the reaffirmation of wedding vows of
NAMES
on DAY
YEAR
at TIME
LOCATION
ADDRESS
CITY, STATE
- - -
Our Creator has greatly blessed us!
Please join us as we
COUPLE
reaffirm our wedding vows
and Jump the Broom
as we did YEAR years ago
in a traditional African ceremony
on DAY
YEAR
at TIME
LOCATION
ADDRESS
CITY, STATE
- - -
The honour of your presence
is requested at the reaffirmation
of the wedding vows of
NAMES
on DATE
YEAR
at TIME
LOCATION
ADDRESS
CITY, STATE
--------------------------
Save on retail shop invitations!
The Party Blockô in an authorized dealer for
Top Invitation Name Brands
Wedding Engagement Announcements
_____________________
Elegant Wedding Invitations at a great price!
Placing an order has never been so quick and simple!

What will it look like when it's printed?
View it with our online preview system!
Invitations are shipped directly to you from the
printer for fastest delivery.
Most orders usually ship out within
2-3 business days.
Free Plain Mailing Envelopes Included
---
Visit our
Store for Personalized Wedding Napkins and Anniversary Napkins